Born in Penzance, West Cornwall, Carly is a jewellery designer who uses her surroundings to inspire unique pieces of handmade jewellery.
Since leaving college and working in education, Carly decided to pursue her passion of art/design and enrolled in an evening class in making jewellery.
On completion of the course Carly enrolled at Truro College, Cornwall to part take in their FDA in Silversmithing and Jewellery Making.
Carly graduated in 2014 and was awarded the Principal Commendation Award alongside her BA.
Each piece of jewellery is handcrafted in Carly's workspace in Cornwall. All handmade to a high standard and finish that allows all elements of the designs to come together.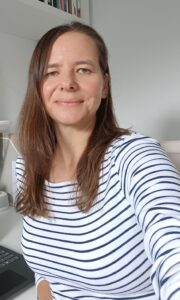 My work
A few years ago I hit a turning point in my life. I embarked on a journey of exploration/experiment through completing an MA in Jewellery at Arts University Plymouth 2021 that would change my whole practise.
As with everything there was a beginning to my story. Carly Hitchens Jewellery was established in 2015, using precious metals such as silver and gold, to create pieces of jewellery inspired by crystals.
In due course I felt there was more, not just to me but what I can achieve as a designer and maker. The focus for my designs and materials was shifting, I wanted to create  something new and exciting.
Every idea starts from a crystal. I research the crystal structure, before developing my ideas through sketches. Now here comes the best part……… I take these designs and recreate them using CAD, which are then 3D printed in PA12 white nylon before being hand dyed in range of colours.
I still wanted to incorporate aspects from my early skill set adding metals to finish off the designs. creating fun, unique and wearable art jewellery.
I hope you will join me as I take the next steps a new venture with rebranding my business and launching a new collection.